US No. 1 Mike Brannigan vs. NY State Champ Jeremy Spiezio vs. Dream Mile Champion Grant Fisher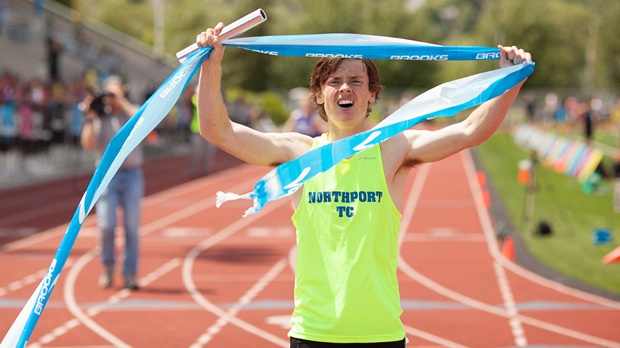 Mike Brannigan celebrates winning the 2014 Brooks PR Invitational 4xMile relay.

The boy's two mile is going to be a showdown from top to bottom with the No. 1 3200m runner in the country entered along with the New York state rival and the top 1600m runner in the country set to face off.Mike Brannigan clocked the fastest 3200m time at the 48th Glenn D. Loucks Games where he crushed the competition in 8:42. He will be faced with a formidable opponent in New York State 1600m championJeremy Spiezio who finished fourth in the Loucks Games, a race where Brannigan won. The two-milers will face recent Dream Mile Champion Grant Fisher who also became the seventh prep in history to clock a sub-four minute mile in high school. Brannigan's season's best in the 3200m in faster than Fisher's 8:53, but Fisher is carrying some serious momentum after repeating as the Dream Mile Champion in a winning time of 4:01, and that performance was just 10 days after running 3:59 at the Nike Festival of Miles. Brannigan and Fisher will be joined by two other opponents who have broken 8:50 this season, including Kodiak High School's Levi Thomet (8:48), and Loudon Valley's Andrew Hunter (8:48).
Wil London Takes On US No. 1 Michael Norman
The boy's 400m is going to be a showdown between Wil London of Waco High School and Michael Norman of Vista Murrieta High School. The Texan and Californian will square off after both breaking 46 seconds in the 400m this season. London clocked his season's best at the Texas Meet of Champions, where he finished first at the Texas Meet of Champions on May 22. The mark was nearly a one-second personal best for the Baylor commit and catapulted him to the No. 3 fastest high school 400m runner in the country. Norman is fresh off of an impressive performance at the adidas Dream 100m where he ran 10.36 in his first 100m race in a year and a half. The Vista Murrieta talent is currently ranked No. 1 in the 200m and 400m after clocking 20.30 (0.7) and 45.19 at the CIF State Track and Field Championships. The two 400m runners will be put to the test on Saturday facing off against a slew of other top sprinting talent around the country.
National 800m Leader Donavan Brazier Returns to the Track
Kenowa Hills standout Donavan Brazier will toe the line to stun the crowd this weekend in the boy's 800m after clocking the fastest time in the country at the MHSAA Regional meet in 1:48.07 on May 15. Brazier is fresh off of winning the MHSAA State Championship on May 30 and hasn't raced since, meaning he will be rested and ready to roll at Shoreline Stadium. Brazier also has the potential to break the Brooks PR meet record of 1:49 set by Derek Holdsworth. He will be challenged by a field that includes nine runners who have all run under the 1:52 mark this season, notably Cheyenne Mountain's William Neyhew (1:50), McQueen High School's Connor Ross (1:50), Memphis University High School's Carlton Orange (1:51), Smokey High School's Blake Yount (1:50), and Wilton High School's Spencer Brown (1:50).
Foot Locker Champion Anna Rohrer vs. NXN Champion Allie Ostrander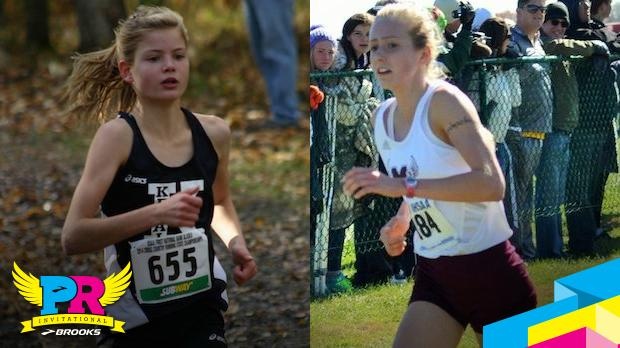 Not only will both cross country phenoms meet for the first time on the track, but the Brooks PR girls two mile also holds a field of ladies who have all broken 10:20 in the 3200m distance. Rohrer may not have the fastest 3200m mark entered in the field, but the two-time Foot Locker Champion is always down for a fight on the track, and NXN Champion Ostrander will be sure to throw down. Rohrer has run 10:11, which she clocked to win the IHSAA Girls Track & Field Championships on June 5. More recently, Rohrer competed at the adidas Grand Prix in the girls Dream Mile. Ostrander is fresh off of winning both the 1600m and 3200m at the Alaska State Track Championships, where she ran 4:48 and 10:09, respectively. Ostrander also currently holds the No. 2 fastest time in the country in the 3200m after the Kenai High School phenom ran 9:58 at the Region III Championships. Rohrer and Ostrander will be met with stiff competition in U.S. No. 1Destiny Collins, who ran a blazing fast 9:53 in the 3200m at the CIF State Track Championships. The Great Oak High School standout finished third in the 1600m (4:41) and came back to win the 3200m at the meet in Fresno, Calif. Other notable contenders entered in the field include CIF State runner-up Fiona O'Keeffe, 2014 Brooks PR third-place finisher Stephanie Jenks, Arcadia 3200m champion Danielle Jones, and New England Championships winner Hannah DeBalsi.
Dream Mile Champ Christina Aragon Wants More
After upsetting a stacked field at the adidas Grand Prix last weekend, Christina Aragon is back to claim another victory in the Brooks PR girl's mile. The Billings, Montana native has had a stellar season in 2015, beginning with a stunning performance at the Payton Jordan Invitational where she clocked a 4:16 in the 1500m. Most recently, Aragon unleashed a monster kick in the girl's Dream Mile to claim the win in a three-second personal best mark of 4:37. Aragon will lead a strong field that includes Air Academy High School'sKatie Rainsberger, who owns a personal best of 4:40 clocked from her fourth-place finish at the adidas Grand Prix Dream Mile. Dream Mile finalist Hannah Long will also return for more race action this weekend after clocking a 4:45 for eighth-place at the adidas Grand Prix. A few California girls will look to mix things up, including Sonoma Academy's Rylee Bowen who will join the party after running a 4:43 at the CIF North Coast Section Meet of Champions. Her rival Brighie Leach will also look to contend after running a personal best of 4:44 against Bowen in the same race.
Don't miss a minute of the action at Shoreline Stadium as the Brooks PR Invitational will be LIVE on MileSplit starting Saturday at 1:30 p.m. PT.