Emma Coburn Earns Olympic Bronze, Breaks American Record in Steeplechase


In a thrilling women's Olympic steeplechase final, Bahrainian Ruth Jebet claimed gold running just off the world record, while American Emma Coburn bravely took advantage of the fast pace by earning a bronze medal in a new American record of 9:07.63.

Coburn's performance marks the first time in history that an American woman has earned an Olympic medal in the steeplechase.
Jebet ran 8:59.75 to win steeplechase gold and was followed by Kenyan Hyvin Kiyeng Jepkemoi for silver in 9:07.12.
Coburn's performance breaks her own American record by three seconds.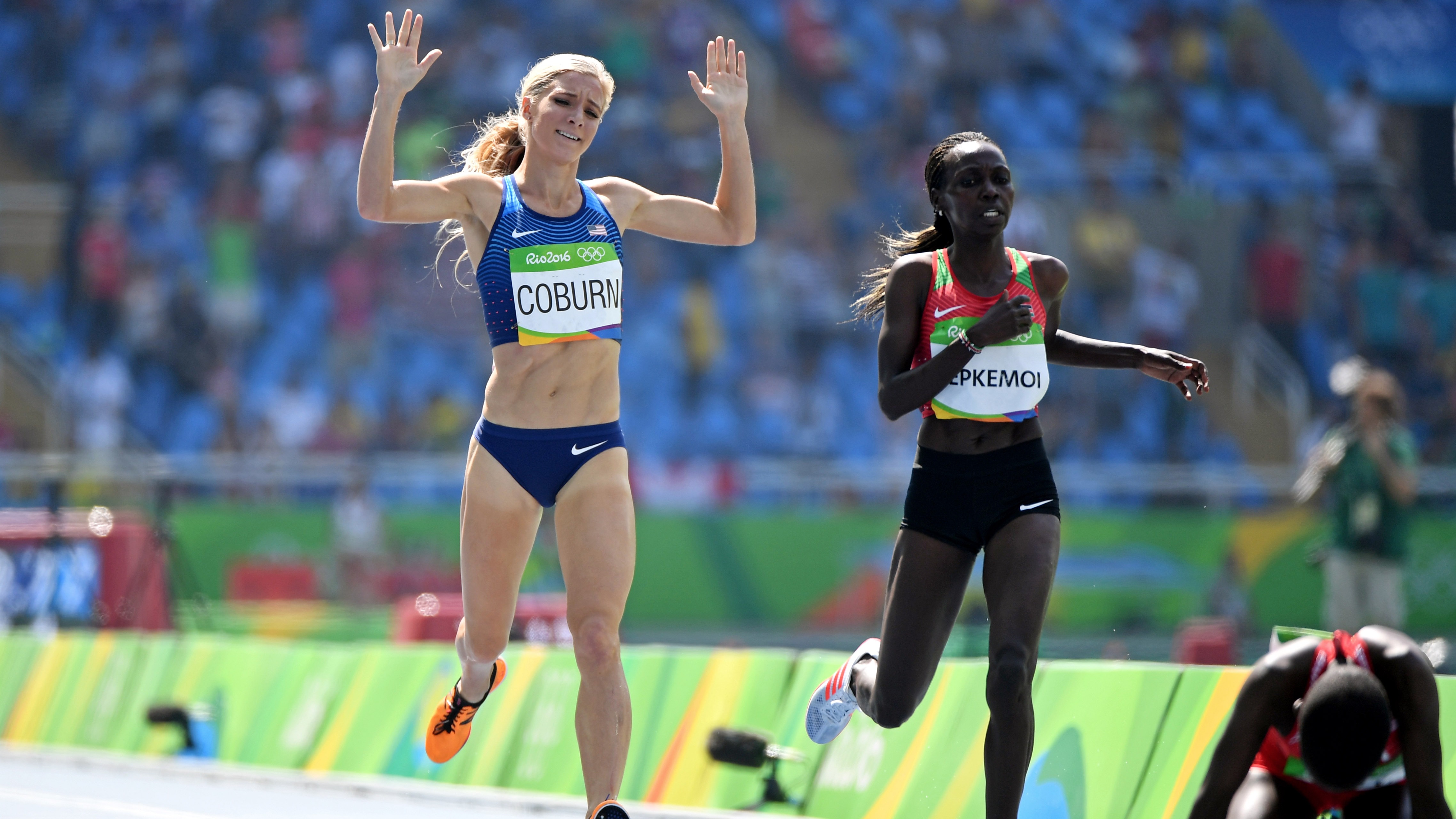 The conditions were prime for a historic performance as world leader Jebet established a brisk pace that kept building.
Coburn moved to the front of the lead pack two laps into the race, fearlessly setting herself up for a top finish. The lead pack crossed the first 1K in 3:05. At that point, Jebet shot to the front and extended a lead over the competition.
Jebet continued to build her lead over Kenyans Beatrice Kepkoech and 2015 world champion Jepkemoi. Coburn followed in fourth, 10 meters behind the Kenyan duo and 30 meters behind Jebet.
Jebet crossed the 2K mark in 6:00, well ahead of the Kenyans and Coburn, and closer to the elusive world record mark.
With two laps remaining, Coburn fought her way into third place, separating Kepkoech and Jepkemoi. With one lap remaining, Coburn and Jepkemoi found themselves running side by side, fighting for silver and bronze in the final moments.
The top three competitors cleared the final water pit and rounded the turn for the finish -- Jebet frantically chasing the world record, Jepkemoi and Coburn battling for the podium.
Jebet closed for gold in 8:59.75, just behind the 8:58.81 world record, and was followed by Jepkemoi and Coburn eight seconds later to round out the top three Olympic final finishes.
The gold medal-winning performance is the 19-year-old's first Olympic Games after finishing 11th at the 2015 world championships. Jepkemoi won last year's championship.
For Coburn, the performance marks her first international championship medal after finishing 8th at the 2012 Olympic Games and fifth at the 2015 world championships. Her Olympic performance stands as the eighth fastest mark all-time.