Jon Davis is wrapping up a near-perfect senior year. The Fithian, Illinois, native recently claimed the 1600m-3200m double for Oakwood High School at the state meet despite suffering from the stomach flu just two days prior. Now, the University of Illinois commit wants to run even faster.
Taylor Dutch of FloTrack caught up with Davis about his senior year, his goals for Festival of Miles, breaking the four-minute mile, and more.

How was the Illinois state championship?
I ended up with both championships in the small class, but the times weren't what I wanted.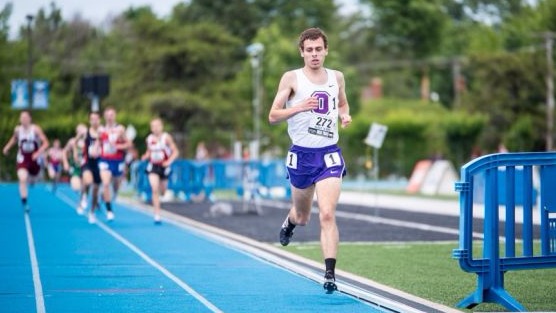 What were you hoping for?
8:50-ish for the 3200m. The 1A record is 4:09 for the 1600m, set by Dorian Ulrey, and I wanted to go after that, but settled for the win because I was feeling crappy.

Why were you feeling crappy?
I got the stomach flu on Tuesday last week and felt horrible until the weekend. Unfortunately, my state meet was this past weekend. But I feel a lot better now going into Festival of Miles. I did a workout this morning and was pleased because I did well and was actually able to finish it.

Wait, you had the stomach flu on Tuesday before your state meet and still won both of your events?
Yeah, I ran prelims on Thursday, then finals on Saturday. Plus, I didn't know we were on a rolling schedule, so I showed up to the 3200m late and in my flats, but was still able to go out in 61--from nerves--and win.
Earlier, you managed to set a huge PR in the 1600m by running 4:05 at the Vermillion County Meet.
Thank you. I wasn't expecting to run a four-second PR at our county meet, so I was happy. My coach told me to go out in 2:02-2:04 (through 800m) and I think I went through in 2:00. I got out aggressively in 57 (seconds), followed in 63, and just held on.
A four-second PR in the 1600m is no joke. Talk about your senior year and how you feel about it so far.
For
cross country, I had a strong year
. I think I was undefeated until the national meet. Somehow, I always manage to get sick or injured, but I ended up 22nd at Nike (Cross Country Nationals) and 13th at Foot Locker (Championships). I won both regional races, so I was confident, but a tight IT band on my right side shut me down for a whole week. I think it allowed by body to de-train, because I couldn't quite get back up in mileage. That fueled the fire for track season.
I treated indoor more conservatively than I have in the past. It's usually like the first phase of my training to get an aerobic base and prepare for outdoor. I was happy to go to California for Arcadia (Invitational) in April and run 8:51 against national elites again.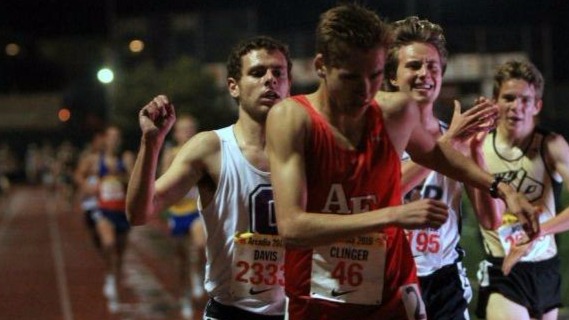 It was! It showed me I was on track with the nation's best and my training was working.
The race went out in 4:33 for the first 1600m, then came back in 4:17 or 4:18. I closed in 58, so I caught a lot of people in that last lap. Although I kicked a little late, I was happy with the result. I think I PR'ed by 14 seconds.
What are you hoping to do at Festival of Miles?
Go after the record, which is a low 4:05-something. But my ultimate goal is to put myself in contention. I'm confident in my kick, and if I win, I'm hoping for a fast time.
Did you catch Drew Hunter, Michael Slagowski, and Austin Tamagno's sub-four and near-sub-four miles this weekend?

I wasn't able to watch, but I paid attention. It's exciting because Austin is in the Brooks PR race, so I guess he'll try to go sub-four as his last attempt of the season. I hope to be in the mix when he tries.
The progression of high school athletes has been amazing these past few years. What do you think about breaking four minutes in the mile at such a young age?

I would have been surprised a year or two ago if you told me two people in my class would break four and one of them wouldn't be Austin Tamagno yet. I expected it with Drew Hunter based on how his cross country season went. And Slagowski won the New Balance 800m and ran 4:05 mostly by himself.
I feel like high schoolers are stepping up in pro races a lot more, but it's against some states' high school athletic rules. I think if you're at the right competition, it'll push you to do your best.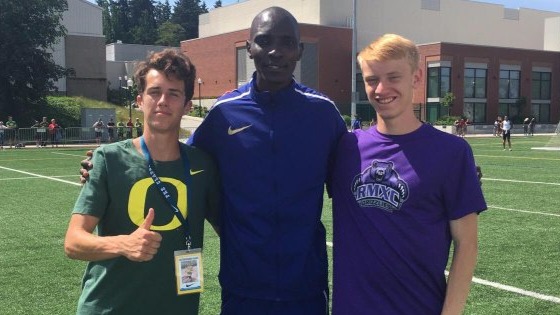 What did you think about Austin Tamagno opting to run Prefontaine instead of the California state meet?
I think he's justified for doing it if he thinks it'll give him the best chance to go after the sub-four barrier. I think that's a little more special than running your state meet. But coming from California, you do have more competition. I mean, he lost to a Californian earlier in the year, but later beat him by several seconds at Mt. SAC. I guess it's weird, but he has to do what he has to do.
You're running Festival of Miles and Brooks PR as your last meets of the season. Do you think you can break four minutes?

I think I have a shot if the competitive fire is there. I ran 4:05 at our county meet, and I think I beat the next guy by 50 seconds, so it was solo.
If they go out fast and I'm feeling good, there's an outside chance. I'd be happy with 4:01 or 4:02. I think Coach [Jake] Stewart would really like a guy of that caliber. But sub-four might be possible. Only time will tell.
Sign Up For MileSplit Universal to Watch Davis Run LIVE on FloTrack Thursday night at Festival of Miles